MAYBERRY SYNDROME – DO YOU SUFFER FROM IT?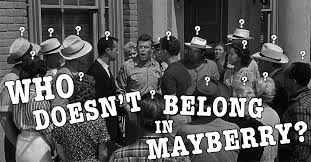 When problems such as sexual abuse of a child occur in a church, the cause often is the "Mayberry Syndrome"—the ongoing belief that nothing would go wrong in the church because "everybody knows everybody." Avoiding this syndrome, and the potential problems arising from it, requires answering "yes" or "no" to six key questions:
• Do we have an official process of screening volunteers who work with children and youth?
• Do we have an effective way to release children to designated people after services?
• Do we have written procedures for volunteers who work with chil¬dren and youth?
• Do we provide regular training for volunteers who work with children and youth?
• Do we equip our volunteers to spot instances of child abuse?
• Do we have bathroom facilities solely for children/minors?
If you answered "no" to any of the above statements, your church may have "Mayberry Syndrome." These statements only represent the tip of the iceberg of managing risk—but they're a good place to start. Evaluate the responses now to address potential vulnerabilities that can lead to problems.
Adapted from Youth Ministry in a #MeToo Culture: Setting and Keeping Healthy Relational Boundaries. Thanks to our friends at Church Tax & Law for this timely article.