The start of spring is a welcome change for many of us.  The warmer temperatures, melting snow and spring rains herald the start of a vibrant new season.  The old saying, "April showers bring May flowers" can be heard throughout the month.  So, what better time than the spring season to inspect and care for your sump pump.  Water is best kept outdoors and not in your church basement! Please note a professional inspection is always best.  But, here are a few suggestions and visual tests for a quick self-evaluation.
Inspect the outside water distribution pipes for debris and damage.
Inspect the interior tubes, pipes and connections.  Are there signs of a slow leak, build-up or clogs in the evacuation pipes?
Is the float operating properly?  It is what triggers the pump to start working.  Perform simple tests to see if the float freely rises and activates the sump pump.
Consider purchasing a battery back-up system. This can allow your sump pump to remain functional in the event of a power outage.  Often big storms capable of producing power outages are also capable of producing heavy rain. It's a simple added layer of protection.
Consider the benefits of an alarm.  This type of system can detect when water rises to a dangerous level sounding a high decibel beep to alert you to a problem.  The technology also exists to connect the alarm signal to your phone for text warnings, etc.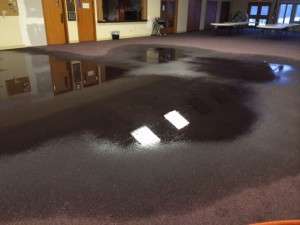 Sometimes we overlook simple pieces of equipment in our buildings.  Yet, these hold great value when needed.  A simple inspection is a great way to stay ahead of any issues that may impact your sump pump's ability to perform.
This article courtesy of our friends a Church Underwriters Inc.